GOSA Visits Marion County Fair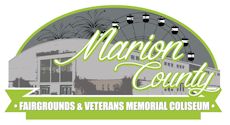 Durant Amusements provided a full complement of rides, games, and food for their first time at Marion. JR Wood was in the middle of 3 projects but stopped long enough for a picture and to report business has been good. Steve Relue manages the midway and was spotted making sure everything was ready for the day.
Katie & Lenny Linville reported having enough staff in their Italian Eatery to grab the business. Their Original Stromboli is a midway favorite, especially when topped with warm pasta sauce. When you see Katie Linville this season congratulate her on becoming the GOSA's newest Lifetime Member.
Bubba of Owen Concessions has been a GOSA member for 39 of his 40 years in the business. Thank you Bubba! He reported the weather at Marion was running true to form. It was either hot or stormy….or both. The weather doesn't bother him, but he would like to see a solution to the lack of help issue.
Doug & Bev Guinsler operated three concessions at the fair. It was too warm to make caramel corn or candy apples so Doug was off site running errands. Not that Doug would shy away from hard work mind you.
Paul Otterbacher, always innovating, was selling a twisted foot long hot dog that was inspired during a trip to California.