Ohio State Fair Celebrates Record-Breaking Successes Post-Fair Metrics Released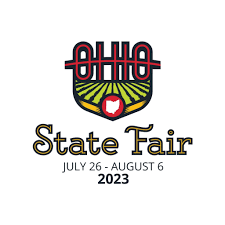 FOR IMMEDIATE RELEASE:
Aug. 8, 2023
Contact:
614-644-4012
j.west@expo.ohio.gov
Ohio State Fair Celebrates Record-Breaking Successes
Post-Fair Metrics Released
COLUMBUS – The 2023 Ohio State Fair came to a close on Sunday, Aug. 6. The 12 days of the event showed record-breaking numbers in many areas, including revenue and community support.
"The Ohio State Fair represents the best of Ohio! It is a phenomenal opportunity to showcase all the wonderful things that Ohio has to offer and why it is the best place in the Nation to raise a family and grow a business," said Governor Mike DeWine. "We had a record-breaking turnout at this year's Fair, and we appreciate the hard work of all who made this Fair an incredible success."
The Ohio State Fair continues to honor tradition, offer top-notch entertainment, provide education, maintain strong agricultural roots, and celebrate Ohio.
"I will never forget this Fair," said General Manager Virgil Strickler, who will be retiring in the coming months. "The great success of this year's event will be remembered for years to come. While this was my last Fair as General Manager, I'm already counting down the days to next year's Opening Day when I can return with my family and continue to watch this great Fair continue to succeed."
A large number of activities and attractions at the Ohio State Fair were included free with admission, including: the butter cow and calf sculpture, activities in the 8-acre Natural Resources Park, entertainment stages/areas and strolling entertainment, livestock shows, equestrian shows and performances, the petting zoo, activities in the Lausche Youth Exploration Space presented by Intel, attractions, pig races, one of the largest fine arts exhibitions in the State, the creative and youth arts exhibits, demonstrations, live music, samplings, shuttles, and so much more.
"We do our best to create an event that can be enjoyed by all Ohioans and out-of-state visitors," said Strickler. "Whether that's maintaining affordable admission and concert ticket prices, increasing our accessibility resources, or providing free admission or tickets to non-profits, community partners, veterans, military personnel, and first responders, we want all Ohioans to have the opportunity to experience the Ohio State Fair."
Ohio State Fair Metrics
• More than $3.2 million in total Midway (ride and game) revenue, which is an increase of 36.2% over 2022.
• More than $8.2 million in total concessions (food and beverage) sales, which is an increase of 18.4% over 2022.
• 35,647 free admission tickets distributed to community and charitable organizations and partners serving those who otherwise would not be able to attend the Ohio State Fair. This represents an increase from 2022.
• Free Ohio State Fair admission offered to all libraries across the State of Ohio for any youth who participate the State Library of Ohio Summer Reading Program.
• Exhibitors and participants from all 88 counties.
• Tickets purchased by visitors from all 50 states, as well as Canada and Mexico.
• 59,416 concert tickets sold to paid shows in the WCOL Celeste Center.
• 354 total vendors with indoor and outdoor locations at the Ohio State Fair. More than 67% of all Fair vendors are Ohio vendors, which is an increase of 5% from 2022.
• $31,500 awarded in scholarships to Ohio youth.
• More than $547,000 in sales at the Sale of Champions from generous buyers, $421,500 of which goes to the Virgil L. Strickler Youth Reserve Program to award thousands of Ohio State Fair youth exhibitors.
• 74 free shows or events with ASL interpretation, as well as ASL interpretation at all paid shows in the WCOL Celeste Center. ASL interpretation is provided in partnership with Opportunities for Ohioans with Disabilities.
• Food Facts:
o 46,818 total scoops of Velvet ice cream sold in the Taste of Ohio Café and Dairy Products Building.
o 36,733 corn dogs or pronto pups sold throughout the grounds.
o 27,759 total hot dogs/hot dog varieties sold throughout the grounds.
o 25,284 total ears of corns sold throughout the grounds.
o 22,986 total funnel cakes sold throughout the grounds.
o 14,889 bourbon chicken bowls sold throughout the grounds.
o 13,822 turkey legs sold throughout the grounds.
o 9,678 cream puffs sold by Schmidt's.
o More than 3,000 donut burgers sold.
o More than 2,100 maple bacon jalapeño deviled eggs sold by the Ohio Poultry Association. This was the most purchased deviled egg flavor. The booth also sold more than 1,300 cotton candy deviled eggs.
"We were so fortunate to have beautiful weather almost every day of the Ohio State Fair," said Strickler. "The great weather, coupled with increased entertainment, great concerts in the WCOL Celeste Center, outstanding exhibits, new partnerships, and so many other factors, led us to breaking our attendance record with more than one million fairgoers over the course of the 12-day Fair."
In 2023, Fair attendance increased by 16.7% with approximately 1,006,228 fairgoers. The Fair also broke a single-day attendance record, with 119,660 visitors on Saturday, Aug. 5. Prior to 2023, the single-day attendance record was 115,288, set on Sunday, July 28, 2013.
Next year, the Ohio State Fair will run July 24 through Aug. 4, 2024.