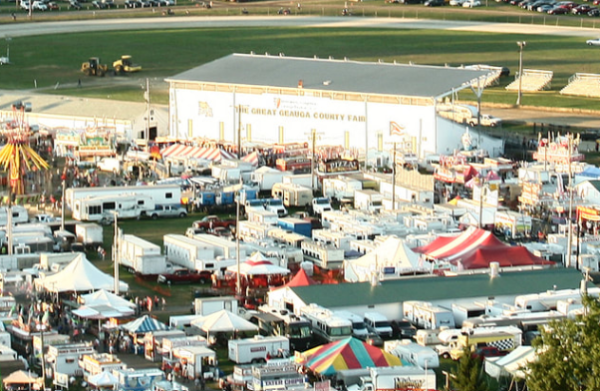 Opening day for the 200th bicentennial edition of the Great Geauga County Fair was held under sunny skies with temps in the low 80's. Attendance was brisk, and fairgoers were busy riding rides, enjoying fair food, and trying their luck at the game joints.
Bates Brothers Amusement Co. set-up 23 rides plus a full array of games and food. Brad and Michelle Dallman and Amy Bates were ready for a busy Labor Day weekend.
Howard Call was busy in his role as concessions manager for the fair. He was looking forward to after Labor Day so he can focus 100% of his time performing his many duties as Executive Director of the Ohio Fair Managers Association.
Past GOSA president Andy Pocock and wife Meralie were busy hanging additional plush to attract players to their water race game. Once fair season is over, they go into Halloween season with their retail costume and supply shop. Andy expects 2022 Halloween to be its busiest since 2019.
Dale Hershberger, owner of Audio Innovators, was spotted cruising the midway checking in on clients. Dale reported all was good as he made his way across the Midwest visiting fairs and festivals. You don't always see Dale on the midway, but you can always hear him.
Lori & Matt Freiling were manning one of their two large retail shops. They were both in good spirits but acknowledged that securing good help continues to be a problem this year. Lori rolled off the GOSA board last year and while she misses opportunity to serve the organization, she promotes the value of the GOSA to everyone she meets throughout the year.
Diane Farson was working Kolar Concessions French Waffle trailer. She has been working for the Kolar's every summer since she was 14 years old and is retiring after this season. Next summer you can find her living and relaxing on Cape Cod, MA.
Randy "Screech" Hubart has been operating the Dragon Wagon for Bates Bros. all season. So far, he has amassed 27 written compliments for his outstanding customer service and interaction with riders of all ages. Amy Bates noted that one woman walked from one side of the fair to the other to make sure Randy was properly acknowledged. How did he get the nickname Screech? Because his voice is so strained it screeches by the end of each day.
Eric German
GOSA Director of Communications